Facilities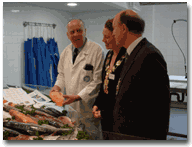 The Market complex covers an area of 13 acres and is entirely self-contained. The ground floor of the building comprises a large trading hall with 98 stands and 30 shops, including two cafes; a shellfish boiling room; a number of individual cold rooms; an 800 tonne freezer store (maintained at a temperature of -26°C), an ice making plant and 14 lock-up shops used by processors, catering suppliers and merchants dealing primarily in trade sundries, non-perishables, poultry and potatoes.
The first floor of the building consists of offices for use by the Superintendent and his staff. The London Fish Merchants' Association, the Trade Union, the Fishmongers' Company's Inspectorate, the Sea Food School Training Association and for individual traders.
The Market is policed by Market Constables appointed by the Superintendent and supervised by an Inspector and a Market Sergeant. These officers enjoy certain Road Traffic and other law enforcement powers within the Market site and are responsible directly to the Superintendent
Day-to day cleaning and maintenance of the site and facilities is carried out by a team of Corporation staff under the direction of the Market's Head of Maintenance.
Other local facilities include emergency dentists, GP surgeries and of course West Ferry Studios.
Vacancies
All trading premises are fully let, and a waiting list applies in respect of these. Please contact:
The General Manager's Office
Billingsgate Market
Trafalgar Way
London E14 5ST
020 7987 1118






---



---